Sorolla Museum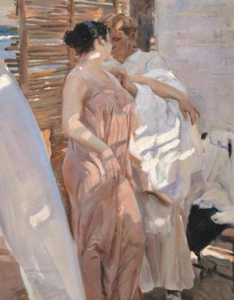 We have been collaborating with the Sorolla Museum since 2015, with annual support for major exhibitions of the Valencian painter's work. The house-museum aims to conserve and exhibit to the public authentic works by Joaquín Sorolla, as well as the artistic objects and furniture belonging to what was his house at Number 37 Paseo del General Martínez Campos in Madrid.
Joaquín Sorolla's greatest legacy focused on mythological, historical and social representations of the time and he was a true master of Spanish costumbrismo. Known as the "Master of Light", Sorolla turned light into his paintings' main protagonist, registering a new sensitivity through his effects and hues capable of evoking vitality and beauty in his works.
Organised together with the Thyssen-Bornemisza Museum, this exhibition brought together over 70 paintings from national and international museums and private collections, some of them never previously exhibited in public. The exhibition focuses especially on the female portraits the artist painted between 1890 and 1920, which are displayed in the rooms along with dresses and accessories from the same period. The exhibition also included valuable pieces borrowed from important institutions and private collections, many of them unpublished.
La exposición Sorolla y la moda englobó más de 70 cuadros procedentes de museos y colecciones privadas nacionales e internacionales.
Passionate about fashion and a chronicler of the trends in the late 19th and early 20th centuries, Sorolla represented in his paintings an evocative catalogue of dresses, jewellery and accessories enhanced by his loose and vigorous stroke.
The social references made by Sorolla, who was born into a humble family of fabric merchants, and by his wife, Clotilde García del Castillo, who was born into a bourgeois and affluent family, were decisive in establishing a clear parallel between his social and economic ascent and his interest in fashion and clothing.
His work as a portrait painter to society was not the only thing that led him to focus on people's dress; it partly stemmed from his eye for observation and genuine interest in all that surrounded him. He also became associated with the image of modernity described by Baudelaire in The Painter of Modern Life.
Composed of around 80 works from his Museum House, private collections and other national and international institutions, the exhibition Sorolla in Paris consisted of a chronological journey through the history of the Valencian artist's international recognition from his first trip to the French capital to his crowning as a great painter of the elites of his time.
From the start of his career Joaquín Sorolla's vocation was to become an international painter, taking part in all the major international competitions and winning important awards. Between 1906 and 1908, he staged monographic exhibitions in Paris, Berlin, Düsseldorf, Cologne and London, consolidating himself as the most widely appreciated Spanish artist.
This exhibition toured the works presented by Sorolla in his European exhibitions, which show how his personal style was mainly forged and modelled in the Paris of the late 19th century.
Sorolla on Exhibit: traces Sorolla's artistic evolution through the Paris Salons, the Sezession in Berlin and Munich and the Venice Biennale, showing how his way of painting for the great exhibitions changed to fit his increasingly personal style.
Sorolla's International Triumph: presents the zenith of Sorolla's artistic growth and encapsulates the research that he was doing at that time and shows off his best work, related to the light and colour of the sea and the masterful way he plays with reflections on water. Sorolla is also presented as being a great portrait painter, with exquisite paintings of his wife, his children and the great personalities of the time. The tradition of Velásquez's court portraits blends with the luminescence of his open air painting and the bravura of his brush strokes.
Sorolla, World Painter: after his triumph in Paris, he moved to Biarritz to paint portraits of his family on the beach where he shows a mastery of light and colour. The following year, at La Granja, he continued to depict his great figures in magical scenarios of water and light. A symbol of his artistic and personal fulfilment, these works show the path that Sorolla followed in the years immediately following, as he was preparing for his great triumph in the United States.
Sorolla. The Art of Light
Coinciding with the International Year of Light in 2015, we sponsored together with the support of the Ministry of Education, Culture and Sport this selection of 54 works by Joaquín Sorolla, which delved into the most revealing facet of the Master of Light.
The exhibition was divided into five major sections: towards the light, shadow and reflection, filtered light, radiance and the art of light. In each of them, different forms of lighting that the artist cultivated were analysed showing he was not only able to reproduce different shades of light, but he was also able to evoke in his paintings the sensation of life that natural light transmits and the special emotion that the play of light aroused in him.
Sorolla was able to reproduce different shades of light and evoke a sensation of life in his paintings.